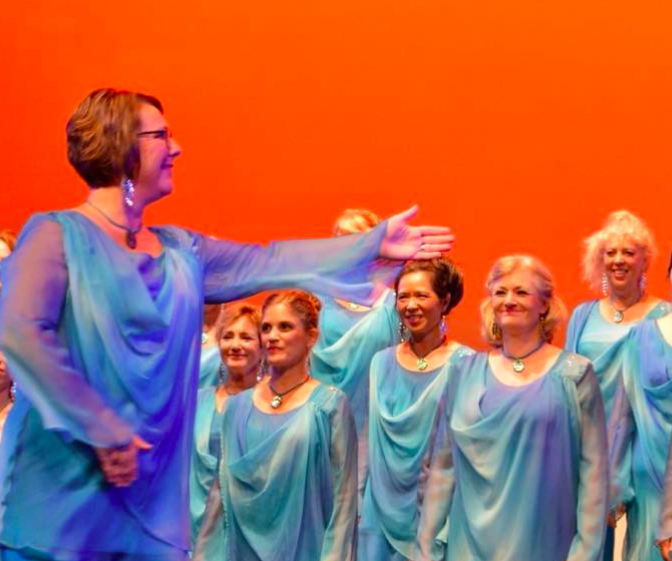 Jocosa Bruce
Jocosa became a Sweet Adeline at just 12 years of age bringing a  strong music background having learnt piano, playing 'cello' for both the Auckland and New Zealand Secondary schools orchestras, singing in the Opus Choir at Epsom Girls, and also performing in many musicals.
Jocosa joined the Music team in 2001 as one of the Lead section leaders, and became an Assistant Director in 2003, also taking up the position of Director of SouthCity Soundz, where her frontline experience is an added bonus for the Chorus.
In 2008 Jocosa was promoted to Associate Director, as her assistance and ability to stand in for Melody Low, our Director at the time, and also her mum, was becoming more apparent.  By 2013, she became our own in-house coach, working much of the time out in front, guiding and advising both the chorus and the Director. In Hawaii she directed for the first time on the international stage, and with that experience and her continued in house coaching role, Jocosa become co-director.
In 2017, our then director, Melody Low, stepped down as Director, and up to the risers, leaving Jocosa to lead the helm.  Jocosa has taken advantage of the opportunity to lead GAC to winning first place in the AA category in the 2018 SAI Regional Contest.  With her fresh, new approach, modern coaching style, and unbounded enthusiasm, she has handled the transition with flair.  Under her direction GAC has developed into a chorus that not only achieves at a high standard, but is also a cohesive group, with positive relationships and strong interpersonal bonds.