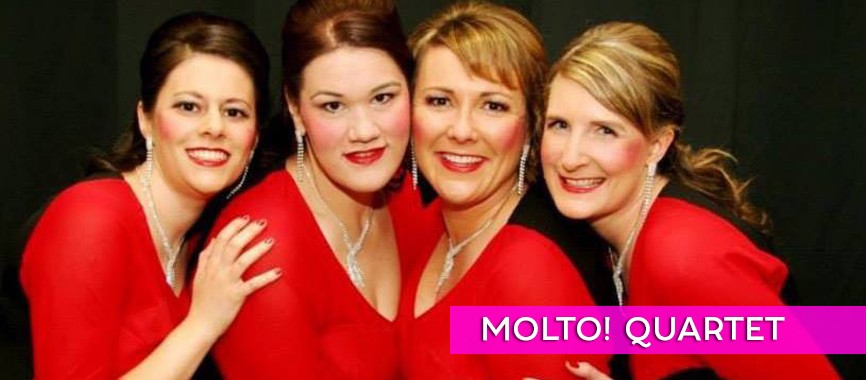 MOLTO!
MOLTO! Quartet are the current New Zealand Champion Quartet.
Kristina Roper - Tenor
Jocosa Bruce - Lead
Suzanne Berresford - Baritone
Philippa Rogers - Bass
Formed in 2012, the quartet have gone from strength to strength and earlier this year won the New Zealand Sweet Adelines quartet competition for the second year in a row. Winning the New Zealand competition means MOLTO! will now represent New Zealand at the Sweet Adelines International Competition in Las Vegas in just a few weeks. The last few months have been filled with much rehearsing for Vegas as well as fundraising to cover the costs of getting the quartet to the U.S for the second year in a row. MOLTO! are excited to be performing their new and improved contest package for you all tonight.
Follow @moltoquartet on Facebook to keep up to date with our U.S. adventures
Our Repertoire includes:
Barbershop Uptunes and Ballads
Jazz Favourites
Show Tunes
Christmas Song Package
Happy Birthday (or Anniversary)
And probably selections that we have learned more recently.
Contact us via email or Facebook for more information on repertoire or performance rates.
Awards and Achievements:
Sweet Adelines Region 35 New Zealand Champion Quartet 2016
Sweet Adelines Region 35 New Zealand Champion Quartet 2015
Sweet Adelines Region 35 New Zealand Second Place Quartet 2014